Chicago has been a concert force for more than (yes!) 50 years, believe it or not. To celebrate such a storied live legacy, the Windy City-bred Rock and Roll Hall of Famers will release VI Decades Live (This Is What We Do), a 4CD/1DVD collection of previously unreleased concert recordings, via Rhino on April 6, 2018. The box set, which includes several deep cuts that have never appeared on any of the band's live albums, also comes with a 24-page booklet illustrated with rare images selected from the band's vast archive.
Considering Chicago's longstanding tradition of 192/24 and 96/24 hi-res releases, we here at HRAC expect VI Decades Live (This Is What We Do) to follow suit.
The songs found in the VI Decades Live collection were recorded between 1969 and 2014. The first two discs in the box are dedicated to Chicago's headlining performance at the Isle of Wight Festival on August 28, 1970. It's a snapshot of a band on the verge of superstardom and in top form, playing songs from their first two albums (such as "Beginnings" and "Ballet for a Girl in Buchannon") as well as "Mother" from their then-unreleased third album, which would be named (of course) Chicago III.
The remaining discs include live performances selected from six decades, starting with a trio of songs recorded in Paris in 1969: "Poem for the People," "25 Or 6 to 4," and "Liberation." Other highlights include deep tracks like "A Hit by Varèse" (1973), "Takin' It on Uptown" (1977), and "Forever" (1987), in addition to songs from Chicago's 1994 big band tour, "In the Mood" and "Don't Get Around Much Anymore."
On February 12, 1977, Chicago played live on the German music television show Rockpalast, and that entire concert is included here on DVD. An amazing overview of the band's career to that point, it boasts unforgettable performance of "Saturday in the Park," "Just You 'n' Me," "Call On Me," and "(I've Been) Searchin' So Long/Mongonucleosis," plus covers of The Beatles' "Got to Get You Into My Life" and The Spencer Davis Group's "I'm a Man." As a bonus, the DVD also includes the fan-favorite performance of "What's This World Comin' To," from the 1973 ABC television special, Chicago in The Rockies.
Naturally, as one might expect, the noted "rock band with horns" will be on the road for much of 2018, highlighted by Chicago's first Las Vegas residency, which begins this month at The Venetian.
In another first, the band's upcoming U.S. tour will feature a complete performance of Chicago II, the double-platinum double album with such hits as "25 Or 6 to 4," "Make Me Smile," "Wake Up Sunshine," and "Colour My World." Each night, the concert's second set will be packed with many of Chicago's greatest hits. These concerts promise to be the longest shows of the band's career, which spans more than 50 years and includes more than 100 million albums sold, 20 Top 10 hits, and a place in the Rock and Roll Hall of Fame. For more information on all of these upcoming live Chicago performances, go here.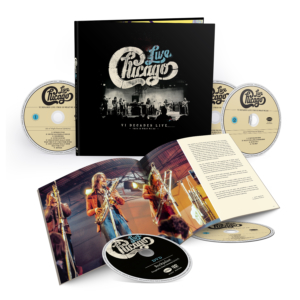 CHICAGO: VI DECADES LIVE (THIS IS WHAT WE DO) 
TRACK LISTING
Disc One: Isle Of Wight Festival (8/28/70) *
1.    Introduction
2.    "South California Purples"
3.    "Beginnings"
4.    "In The Country"
5.    "Does Anybody Really Know What Time It Is? (Free Form Intro)"
6.    "Does Anybody Really Know What Time It Is?"
7.    "Mother"
Disc Two: Isle Of Wight Festival (8/28/70) *
1.    "It Better End Soon"
2.    "Ballet For A Girl In Buchannon"
3.    "25 Or 6 To 4"
4.    "I'm A Man"
Disc Three *
1.    "Poem For The People" (Paris, France, 12/8/69)
2.    "25 Or 6 To 4" (Paris, France, 12/8/69)
3.    "Liberation" (Paris, France, 12/8/69)
4.    "Goodbye" (The John F. Kennedy Center For The Performing Arts, Washington D.C., 9/16/71)
5.    "Now That You've Gone" (Hordern Pavilion, Sydney, Australia, 6/26/72)
6.    "A Hit By Varèse" (Chicago Stadium, Chicago, IL, 8/13/73)
7.    "If You Leave Me Now" (Oakland Coliseum, Oakland, CA, 12/1/77)
8.    "Takin' It On Uptown" (Oakland Coliseum, Oakland, CA, 12/1/77)
Disc Four *
1.    "Hot Streets" (Greek Theater, Los Angeles, CA, 8/11/78)
2.    "Little One" (Greek Theater, Los Angeles, CA, 8/11/78)
3.    "Forever" (Pensacola Civic Center, Pensacola, FL, 3/21/87)
4.    "Medley: In The Midnight Hour/Knock On Wood/I'm A Man/Get Away" (Pensacola Civic Center, Pensacola, FL, 3/21/87)
5.    "You're Not Alone" (Starplex Amphitheater, Dallas, TX, 5/30/92)
6.    "The Pull" (Caesar's Palace, Las Vegas, NV, 3/20/94)
7.    "In The Mood" (Caesar's Palace, Atlantic City, NJ, 7/28/94)
8.    "Don't Get Around Much Anymore" (Caesar's Palace, Atlantic City, NJ, 7/28/94)
9.    "Look Away (Acoustic)" – A&E Network, Live By Request, 9/5/02)
10.  "America" (WHYY, The Grand, Wilmington,  DE, 5/7/14)
DVD: Rockpalast (2/12/77) *
1.    "Anyway You Want"
2.    "Saturday In The Park"
3.    "Skin Tight"
4.    "Just You 'n' Me"
5.    "Hope For Love"
6.    "You Are On My Mind"
7.    "Does Anybody Really Know What Time It Is?"
8.    "Ballet For A Girl In Buchannon"
9.    "Beginnings"
10.  "Scrapbook"
11.  "A Hit By Varèse"
12.  "Call On Me"
13.  "Takin' It On Uptown"
14.  "If You Leave Me Now"
15.  "Once Or Twice"
16.  "(I've Been) Searchin' So Long"/"Mongonucleosis"
17.  "25 Or 6 To 4"
18.  "Got To Get You Into My Life"
19.  "I'm A Man"
* Previously Unreleased