It's been 50 years since the Steve Miller Band's first two Capitol Records albums were released in 1968, and now Miller and Capitol/UMe have announced the May 18, 2018 release of the band's first nine studio albums in a new 180-gram vinyl box set collection called Complete Albums Volume 1 (1968-1976).
The collection spans the band's first studio album Children of the Future through 1976's multiplatinum masterpiece Fly Like an Eagle. Each album is also available for preorder as individual 180-gram black LPs to be released on the same date, as well as limited-edition 180-gram color vinyl LPs for sale exclusively via uDiscoverMusic.
The Steve Miller Band's first nine studio albums have also been newly remastered for HD digital audio at 96kHz/24-bit (which we here at HRAC, of course, wholeheartedly approve). Starting with the global release of Children of the Future on February 16, the albums' HD digital audio debuts will continue weekly in chronological order ahead of the Complete Albums Volume 1 vinyl release.
Additionally, the Steve Miller Band will be heading out on tour this summer with Peter Frampton; you can find all the dates here. In the meantime, here's a taste of this dynamic guitar duo in recent action, doing "Stranger Blues" live from The Pacific Amphitheater in Costa Mesa, California: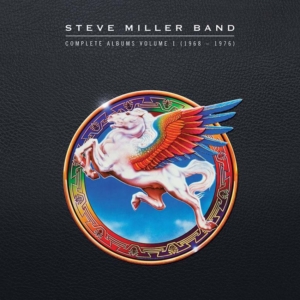 STEVE MILLER BAND: COMPLETE ALBUMS VOLUME 1 (1968-1976)
180-GRAM VINYL BOX SET
All albums also available on individual 180g black vinyl LPs and limited edition 180g color vinyl LPs [individual digital release dates are in brackets]
Children of the Future [HD digital audio release: February 16]
Sailor [HD digital audio release: February 23]
Brave New World [HD digital audio release: March 2]
Your Saving Grace [HD digital audio release: March 9]
Number 5 [HD digital audio release: March 16]
Rock Love [HD digital audio release: March 23]
Recall the Beginning… A Journey from Eden [HD digital audio release: March 30]
The Joker [HD digital audio release: April 6]

STEVE MILLER BAND: COMPLETE ALBUMS VOLUME 1 (1968-1976)
180-GRAM VINYL BOX SET – LIMITED EDITION 180-GRAM COLOR VINYL LPs
Children of the Future – Pink
Sailor – Blue
Brave New World – Yellow
Your Saving Grace – White
Number 5 – Orange
Rock Love – Transparent Green
Recall the Beginning… A Journey from Eden – Red
The Joker – Yellow-Green
Fly Like an Eagle – Half Black + Half Bright Yellow
PREORDERS
** Steve Miller Band's Complete Albums Volume 1 (1968-1976) vinyl box set; the nine individual 180-gram black vinyl LPs; and the nine limited edition 180-gram color vinyl LPs: https://UMe.lnk.to/SMBCompleteAlbumsVol1
** Children of the Future in HD digital audio:  https://UMe.lnk.to/SMBChildrenOfTheFutureHDPR
SOCIALS
http://www.facebook.com/stevemillerband