Whether you choose to digest your music via high-resolution downloads, full 5.1 surround sound, and/or 180-gram wax, this past year delivered a spate of full-length aural goodness. In reverse order, here are our Top 31 long-players of 2014.
31. The Dollyrots: Barefoot + Pregnant. (Hunnypot) Coolest of the cool garage-sters add more fine musical Dollytots to their supersonic brood.
30. Bruce Springsteen: High Hopes. (Columbia) The Boss rages on against the machinations of society. Read my full album review on The SoundBard.
29. Leon Russell: Life Journey. (Capitol) A legendary Mad Dog of the Wrecking Crew brings his long, storied, (un)Sheltered career full circle. Read my interview with Leon on The SoundBard.
28. Joe Bonamassa: Different Shades of Blue. (J&R Adventures) Master bluesman widens his tone palette. Read my interview with Joe on Digital Trends.
27. Robyn Hitchcock: The Man Upstairs. (Yep Roc) Mostly acoustic, naked, and raw. In other words, RRR: Real Robyn Royale. Read my interview with Robyn on Digital Trends.
26. Mark Rivera: Common Bond. (Dynotone/Red River) Uncommonly great. A soulful man of sax with indelible taste. Heartfelt vocals and killer jams galore. Read my interview with Mark on The SoundBard.
25. Hurtsmile: Retrogrenade. (Kobalt/Hurtsmile) Gary Cherone, family & friends take no prisoners and drop some serious neo-classic hard-rockin' science. My interview with Gary will be posting soon.
24. Paul Rodgers: The Royal Sessions. (429 Records) The perpetual British golden throat — he is The Voice — adds his own unmistakable stamp to a score of deep-rooted Southern-fried soul, blues, and R&B classics. Read my interview with Paul on FOX411.
23. Temples: Sun Structures. (Fat Possum) Mesmerizing mod(ern) Britpop with smart harmonies, super-catchy melodies, and the right amount of fuzz 'n jangle.
22. The Flaming Lips: With a Little Help From My Fwends. (Warner Bros.) Uber-heady reimagination of Sgt. Pepper, with more than a little help from the likes of My Morning Jacket, J Mascis, Moby, and Miley Cyrus. Read my interview with Wayne Coyne on Digital Trends.
21. Neil Young: A Letter Home. (Reprise) A one-man, one-mic, one-booth, recorded-to-acetate chronicle best heard on wax. Ochs, Dylan, Hardin, Jansch, Nelson, Everly, and more — all done stark, and all done right.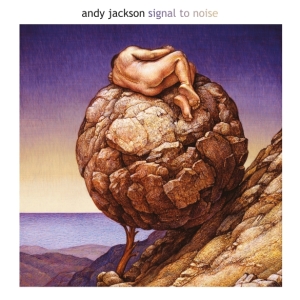 20. Andy Jackson: Signal to Noise. (Esoteric Antenna) One-man prog band reflects on life's highs and lows — best heard via his masterful lossless 96/24 quad mix. Read my interview with Andy about Signal to Noise here on Hi Res Audio Central.
19. The Black Keys: Turn Blue. (Nonesuch) A hypnotic whirlwind of an album delivered at a relative fever pitch — less reckless than previous efforts, perhaps, but no less gripping.
18. The Ghost of a Saber Tooth Tiger: Midnight Sun. (Chimera Music) The GOASTT, a.k.a., Sean Lennon and Charlotte Kemp Muhl, craft an indelible mind-melded earwig of an album that marries the catchiest pop-experimental creative impulses of their collective DNA.
17. Benmont Tench: You Should Be So Lucky. (Blue Note) Heartbreakers keyboard master stretches his fingers across a multitude of styles. A plethora of smart, diverse arrangements recorded to tape, produced by Glyn Johns, and best heard on 180-gram vinyl. Read my interview with Benmont on The SoundBard.
16. Ben Ottewell: Rattlebag. (The End/Tarka) Second solo outing from Gomez singer/guitarist simmers and shimmers with gut-deep blues driven by acoustics, pedal-steel, organ, harp, shakers, and ohhhh, the very depths plumbed by that intimate, world-weary, and gravel-gritty voice. My interview with Ben will be posting soon.
15. Foo Fighters: Sonic Highways. (Roswell/RCA) A glorious, breakneck, 8-track ride across this fine country, wherein Dave Grohl and the gang mix up a melting pot of multiple regional sonic delicacies to create one badass rock 'n' roll stew. (Addendum: Watching Foo Fighters: Sonic Highways is wholly worth the time investment to get the full 8-city backstory.) My Foos interview (or two) will be posting in early 2015.
14. St. Vincent: St. Vincent. (Loma Vista/Republic) Bold, challenging, quirky, funky, angular, progressive, alternative, wholly individual — in short, everything you want new music to aspire to be, and beyond.
13. Robert Plant: lullaby and … The Ceaseless Roar. (Nonesuch) Sensationally shape-shifting vocalist on a relentless quest to wrap his perpetually unledded voice around new sounds, as well as reinvent timeless ones. Metaphysically holy.
12. Eric Clapton & Friends: The Breeze – An Appreciation of J.J. Cale. (Bushbranch/Surfdog) E.C. and some choice pals, including Mark Knopfler, Tom Petty, and Willie Nelson, expertly capture the laconic tone and inveterate Okie spirit inherent in 16 of the late songwriter's best grooves.
11. Jack White: Lazaretto. (Third Man/Columbia) No need for quarantine here — White's infectious garage-blues hybrid continues to evolve and seduce aurally, especially on 180-gram vinyl.
10. David Crosby: Croz. (Blue Castle) Masterful singer/songwriter continues to remind why he's a critical voice of both the 20th & 21st centuries when it comes to songcraft, harmonies, and topicality. Best cut is "Radio," which he often performs live with CSN. "Look out, look down, and pull someone out of the sea." My interview with David will be posting on Digital Trends during the first week of January 2015.
9. John Hiatt: Terms of My Surrender. (New West) Singer/songwriter nonpareil cuts deeply intimate album, with a cavalcade of wholly audible stomps, claps, and deep breaths only reinforcing the you-are-there vibe. "The goal was to make it feel like we were all together on the back porch." Goal achieved. Read my interview with John on The SoundBard.
8. Neil Finn: Dizzy Heights. (Lester/Kobalt) Aptly named heady mixture of stark minimalism and ethereally dramatic effects from a songwriter who never stops pushing boundaries by shaking up song arrangements and their ensuing sonic character while still managing to keep everything eminently hummable. Favorite track: The full-on barnburning bombstriker, "Divebomber."
7. Syd Arthur: Sound Mirror. (Harvest) A bountiful garden of modern prog-psychedelia, best exemplified by the burbling, jamtastic rise of "Singularity." Read my interview with Syd bassist Joel Magill in the "Desert Rock 'n Roll" segment of the "A Desert Soundtrack" feature on Palm Springs Life.
6. Gord Downie, The Sadies, And The Conquering Sun: Gord Downie, The Sadies, And The Conquering Sun. (Arts & Crafts) More exploratory crater crushers from the perpetually visionary Tragically Hip songwriter and some choice raucous friends. "Day is your word, night is the glue."
5. Tom Petty & The Heartbreakers: Hypnotic Eye. (Reprise) Wide-ranging rock & roll blood on the tracks of the highest order, from the raucous crunch of "American Dream Plan B" to the fuzzed-out bliss of "U Get Me High" to the shuffling honky-tonk of "Burnt Out Town." Ryan Ulyate's 5.1 mix on Blu-ray makes it even more engaging. "I'm gonna fight 'til I get it right." Read my interview with Ryan on The SoundBard, and then read Ryan's essay on his passion for hi-res audio right here on Hi Res Audio Central.
4. Pink Floyd: The Endless River. (Columbia) Mostly instrumental, most likely final studio statement finds the Floyds doing what they do best — creating an aural planetarium of endless wonder that, yes, speaks louder than words … and ever more masterfully so in the 5.1 mix by Andy Jackson. Read my interviews with Pink Floyd drummer Nick Mason on Digital Trends and FOX411 — two completely different Q&As!
3. Nick Waterhouse: Holly. (Innovative Leisure) Resides at the intersection of Swing and Jam — where 1964 meets 2014, and we all groove together. Absolutely, unquestionably at its best when listened to on 180-gram mono vinyl. All hail the new King of Retro Cool. Read my interview with Nick on The SoundBard.
2. The Raveonettes: Pe'Ahi. (The Raveonettes) The absolute apex of when garage and psychedelia meet and fire on all cylinders. Sune Rose Wagner is a master at creating and capturing studio atmospherics, and he and Ravs partner Sharin Foo are able to seamlessly translate it all beautifully live without compromise.
1. Coves: Soft Friday. (Nettwerk) Endlessly sensually ethereally hypnotic. Beck Wood's reverb-drenched, chanteuse-style vocals intertwine with guitarist/producer John Ridgard's gritty, trip-inducing soundscapes. A stunning debut that instantly catapults Coves to the forefront of the blissed-out movement. More "Beatings," please, STAT. Read my interview with Beck and John on Digital Trends.