Toto have just announced the upcoming release of their definitive, career-spanning All In box set via Legacy Recordings for October 12, 2018. This limited-edition release is available now for pre-order here.
Note: The All In box set will not be made available in retail outlets, and is only available to purchase until April 10, 2018. All orders will ship this fall.
All In features 17 LPs total, including all of the following albums from Toto's storied canon: Toto, Hydra, Turn Back, IV, Isolation, Fahrenheit, The Seventh One, Kingdom of Desire (2LPs), Tambu (2LPs), Mindfields (2LPs), and Toto XX (2LPs). Additionally, All In includes the previously unreleased Live in Tokyo EP as culled from the band's 1980 tour, along with an album titled Old Is New. The Old Is New LP features 10 tracks, seven of which are previously unreleased, along with "Spanish Sea," "Alone," and "Struck by Lightning." The latter three tracks are also featured on Toto's new greatest hits collection, 40 Trips Around the Sun, which was released by Legacy on February 9, 2018.
Given that 40 Trips Around the Sun is available in hi-res at 96/24, we here at HRAC hope all of the core albums that comprise All In will follow suit.
All In also feature a Blu-ray that includes a) Live in Paris 1990 Concert, and b) Toto IV, both mixed in 5.1 surround sound. All of the music in the box set has been personally remastered by Toto along with legendary producer Elliot Scheiner (Steely Dan, Eagles), who also helmed the surround mix done for the 2002 SACD release of Toto IV.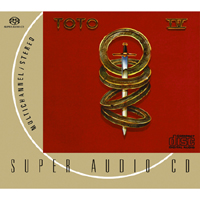 In an interview Toto guitarist/vocalist Steve Lukather (a.k.a. Luke) and your HRAC CCO conducted back in 2014 over on The SoundBard, I asked the guitar guru about working with Scheiner (who also did a pretty cool DTS 5.1 surround mix in 2002 for Luke's 1994 solo record, Candyman). "Elliot and I are dear friends," Luke told me. "He did all of that great Steely Dan stuff, and he's an expert at 5.1 mixing without making it sound ridiculous. We thought he was the perfect fit. He was one of [late, original Toto drummer] Jeff Porcaro's favorite engineers." (Elliot's also one of yours truly's favorite producers/engineers too.)
Also included in the All In box set is an 80-page hardcover book that features new essays, previously unseen photos, and a numbered, 8×8-inch certificate of authenticity personally signed by the band. A CD version of the All In box set with just the albums will be made available later this year.
Toto is currently in the middle of an extensive 40 Trips Around The Sun European tour, the band's most extensive run in years, which is expected to hit the U.S. this summer. More shows will be announced shortly.
TOTO: 2018 – 40 TRIPS AROUND THE SUN
TOUR DATES
2/22     Munich, DE                            Olympiahalle – SOLD OUT
2/24     Berlin, DE                               C-Halle – SOLD OUT
2/25     Leipzig, DE                            Haus Auensee – SOLD OUT
2/27     Prague, CZ                              Forum Karlin
2/28     Krakow, PL                             Tauron Arena
3/2       Vienna, AT                             Gasometer – SOLD OUT
3/4       Sofia, BG                                National Palace Of Culture
3/5       Skopje, MK                            Boris Trajkovski Sports Hall
3/9       Zagreb, HR                             Dom Sportova
3/10     Milan, IT                                 Mediolanum Forum
3/12     Zurich, CH                              Hallenstadion
3/13     Stuttgart, DE                           Porsche Arena – SOLD OUT
3/15     Lille, FR                                 Zenith
3/17     Amsterdam, NL                      Ziggo Dome – SOLD OUT
3/18     Brussels, BE                           Forest National
3/20     Offenbach, DE                        Stadthalle – SOLD OUT
3/22     Geneva, CH                            Arena Geneva
3/23     Bologna, IT                             Unipol Arena
3/25     Marseille, FR                          Dome
3/26     Toulouse, FR                          Zenith
3/27     Lyon, FR                                 Halle Tony Garnier
3/29     Luxembourg City, LU                        Rockhal
3/30     Paris, FR                                 La Seine Musicale – SOLD OUT
4/1       London, UK                            Royal Albert Hall – SOLD OUT
4/2       Manchester, UK                     Bridgewater Hall – SOLD OUT
4/4       Dublin, IE                               Vicar Street – SOLD OUT
4/5       Dublin, IE                               Vicar Street – SOLD OUT
4/7       Belfast, UK                             Waterfront Auditorium
4/8       Glasgow, UK                          SEC Armadillo
TOTO – SOCIALS